We know a quality product and customer service are sometimes hard to come by in this day and age. We work hard and strive to provide both of these to you and would like to thank our customers that have taken the time to submit these reviews. If you would like to submit your own review, please click here. We would love to hear from you!
Hey man thanks for the quick shipment. It was a gift for my employee and I think he actually posted a photo of it on instagram. @_tresims
That's a great edc valet that y'all make and I'll be ordering myself one soon. Keep up the good work.
By far the best charging station a man can buy.
Great craftsmanship and customer service!
By far the best dump tray I have ever owned!
I got your EDC Valet for my birthday, absolutely in love with it! Even holds my pistol in its G-code holster without issue! Thanks a ton!
Thanks Clearwater Stag Works! My Glock 19 fits like a glove. Beautiful craftsmanship and amazing customer service!
Beautiful Craftmanship
Wonderfully made. Packaged appropriately. Excellent attention to detail.
I feel like my EDC items have a home now. The rubber feet on the bottom of the valet keep it securely in place on my glass-topped nightstand. My iPhone 7 Plus with Otterbox Commuter case fit perfectly in the phone cradle. Five stars.
OUTSTANDING Product!!!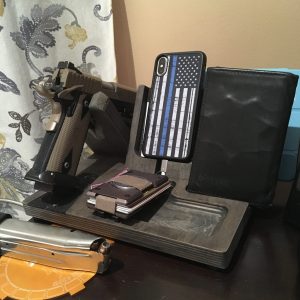 To date, I've purchased FIVE (5) EDC Valets from Clearwater Stag Works. The 1st was a gift to myself for the bedside nightstand. Awesome workmanship and finish! I then noticed CSW had done a special order for another customer reversing the weapon perch and the cellphone stand… THAT would be great for me because it would put me weapon closer to my bedside (I know… OCD!!!). Well, in went the order and while at it…ordered one for the MRS! She LOVES it and the assistance of organizing her nightstand even more so. I'm thinking… ALL DONE! Nope… Christmas gifts for my chapter members of the LEO MC I ride with… what better than an CSW's EDC Valet! Ordered them up, special request to CSW to "drop ship" to my BROTHERS homes and NO PROBLEM…they even sent separate tracking info without asking AND followed up to make sure the gifts were delivered and prior to Christmas! (Which they were)… My BROTHERS were speechless and called several times to Thank Me for an awesome gift…
Keep it up CSW!!!
Quality craftsmanship and ingenious design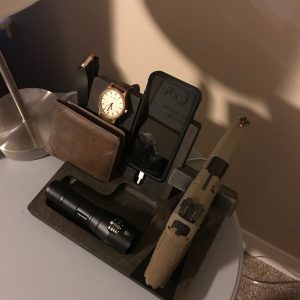 This valet blew me away when I received it. Exceptional attention to detail and a well thought out design. I absolutely love it from the color to the functionality. It successfully has held six different pistols from extended to subcompact without issue. It even allows me to keep a weapon light attached. Truly impressed by this edc valet and Clearwater Stag Works. Fast shipping as well.
LOVE LOVE LOVE
I recently purchased this as a gift for my boyfriend's birthday. Quality is amazing and it looks great on his nightstand. I will be purchasing another one for my side! Thanks so much for a great quality piece that has easily become part of our bedroom decor!!
Excellent
Ordered the Valet XL as a gift. Shipped within 2 days arrived soon after and looks just like it's shown. Can't wait to give it away!